Soft Shackles will help make any vehicle recovery easier. Forget about trying to find a solution to connect a steel shackle to a vehicle without recovery points. Our Shackles wrap around anything such as recovery points, roll bars, axles and bumpers, therfore replacing heavy D-Rings and Anchor Shackles in just about every application. Plus, with thier versatility, it allows you to make connection points that D-Rings don't allow. Our Soft Shackles are made from High Strength, Low Stretch UHMWPE synthetic rope in many diameters and strengths so you can be sure that they will not break even in the toughest recovery situations. They can be used with recovery ropes, tow ropes, winch ropes or whatever recovery tools you have and are perfect for use with hooks and Safety Thimbles.
Some of the Advantages of Soft Shackles:
Lightweight – They are so light they even float
Strong – Made with High Strength, Low Stretch UHMWPE 12 strand synthetic rope. Stronger than steel cable in the same size
Safer – No metal objects or projectiles causing damage or harm to people or vehicles like steel shackle.
Can be wrapped around almost anything without causing damage to the vehicle or scratching paint
Easy to store – place them under your seat, in your pocket or wrapped around your roll cage
Designed with a Quick Release Pull String.  After a recovery or pull, the soft-eye under the knot can become very tight and hard to remove. Simply pull on the string to help release the eye tension to remove from the knot.
*Our Soft Shackles are rated for pulling and NOT lifting
3/4″ Soft Shackle Features:
Material: High Strength, Low Stretch 12 strand UHMWPE Synthetic Rope
Minimum Breaking Strength: 30,000 lbs.
Inside Diameter: 10″ or 15″
Recommended WLL: 10,000 lbs.
Rope Diameter (not including knot): 3/4 Inches
Weight: 5oz.
Knot: High Strength Diamond Knot
Colors: Orange Black, Silver, Red, Blue, Yellow, Lime Green,
Heavy Duty Industrial Soft Shackles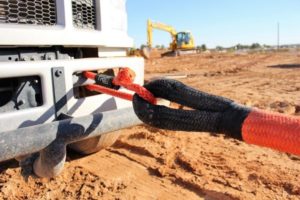 Heavy Duty Industrial Soft Shackles Feature:
Material: High Strength, Low Stretch 12 strand UHMWPE Synthetic Rope
Minimum Breaking Strength: up to 125,000 lbs.
Inside Diameter: 13 Inches
Recommended WLL: up to 100,000 lbs.
Rope Diameter (not including knot): up to 2 Inches
Weight: 1-3 lbs.
Knot: High Strength Diamond Knot
Colors: Orange
Tree Saver Soft Shackle Features:
Material: High Strength, Low Stretch 12 strand UHMWPE Synthetic Rope
Minimum Breaking Strength: 40,000 lbs.
Inside Diameter: 36 Inches
Recommended WLL: 20,000 lbs.
Rope Diameter (not including knot): 7/8 Inches
Weight: 3oz.
Knot: High Strength Diamond Knot
Colors: Orange
Sheathing: 8 ft. Heavy Duty Nylon
1/2″ Soft Shackle Features:
Material: High Strength, Low Stretch 12 strand UHMWPE Synthetic Rope
Minimum Breaking Strength: 15,000 lbs.
Inside Diameter: 10 Inches
Recommended WLL: 5,000 lbs.
Rope Diameter (not including knot): 1/2 Inches
Weight: 3oz.
Knot: High Strength Diamond Knot
Colors: Orange Black, Silver, Red, Blue, Yellow, Lime Green, Purple and Pink